It's been a hell of a year. We've lost hundreds of thousands of lives to a virus, many went homeless and hungry while Kanye West and every senator was given tons of money, the president of the United States is threatening to bring in the military to legitimize his hissy fit over losing the election, and the film industry feels like it's collapsed. I had a huge amount of stress over this entire ordeal and I spent most of my free time either buried in film or playing Skyrim (I just started, don't @ me). Somehow, even in all of this, we managed to get some dynamite films and there was enough time for me to see quite a number of them. Turns out we had a pretty decent year (at least in terms of films released) and I remain sort of hopeful for next year.
First let us honor some great films that just didn't make my top ten this year. They are in no particular order.
Honorable Mentions
Miss Americana: What's not to love about a film that gave me a genuine appreciation of not only Taylor Swift, but the life she's led and the success she's found?
Borat Subsequent MovieFilm: Rudy Guliani tried to expose himself to an underage woman and got away with it. What a time to be alive, and what a disgusting thing it is that we can have that on-camera and he suffers no consequences.
His House: It's gorgeous, frightening, and it paints a hell of a picture about the horrors of war and survivor's guilt.
She Dies Tomorrow: The idea of death spreads like a virus and just won't let go. It's awesome.
All of those are films you should check out. They're great, just not all are ones that I would have put on a top ten list (though two almost made it). Now…on with the show!
10. Underwater: I love it. It's fun, it's lean, and it's got a couple of incredible performers to lead us through a movie that would have felt at home in the 90s. Lovecraftian imagery, deep sea terror, and some truly legitimate scares, the film works on the kid in me. It feels like a decade ago that I watched it, but January was part of 2020 and while there were a lot of better films that could have taken this spot I just…I have to give it to the schlocky one I enjoyed. Whether you're fascinated by TJ Miller's stuffed animal obsession or your brain just breaks at the appearance of Vincent Cassel, Underwater is something I'll throw out as a ton of fun for horror fans and casual viewers alike.
Read my full review Underwater – Review
09. The Invisible Man: Thank goodness we tossed aside that "Dark Universe" crap and went with Leigh Whannell's vision instead. The Invisible Man made it to theatres on the cusp of the COVID-19 pandemic and has continued to make money at drive-in theatres around the country. A modern take on H.G. Well's novel, it turns away from the mad scientist in his invisibility and instead focuses on his battered romantic partner. She escapes his grasp and he commits suicide, but strange stuff happens around her living space and the woman (played by Elizabeth Moss) is just stunning in her portrayal of a survivor. If you've ever known someone that escaped this kind of relationship (or have been in one yourself) the material is gripping and horrific. Great scares, some ridiculous visual tricks, and wonderful performances all come together to have made one of the best films 2020 had to offer.
Read my full review The Invisible Man – Review
08. Mank: Look, we love us some David Fincher. Whether you're one of those dude-bros that completely misunderstood Fight Club or, like me, you recognize The Girl With the Dragon Tattoo for the complete masterpiece that it is, he's infiltrated all of our homes at some point or another. I got frustrated waiting for him to turn out another film. This year we got Mank, a rather strange outlier in his film catalog that chronicles one version of the story about Citizen Kane. It's lighthearted and breezy, but manages to openly tie itself to modern America in some ways that…made me sad. With a series of wonderful visual callbacks and an absolutely killer score from Trent Reznor and Atticus Ross, Mank serves as a hard left turn for almost every creative involved and sets up what appears to be a new direction for Fincher's career.
Read my full review Mank – Review
07. Soul: A friend said to me, "Pixar has making me cry down to a science." It's true, they definitely know how to hammer out the emotional aspects of their stories until I'm nice and tenderized, but the move never feels cheap or unearned. This year they made their first film almost directly targeted at adults: Soul, from director Pete Doctor and starring Jaime Foxx and Tina Fey. It's a beautiful little movie that is meant to remind everyone that their passions aren't their reason for living, instead serving as an outlet for the feelings created by living a full life. Containing shades of A Matter of Life and Death, the film took those visual cues and made them into a cacophony of disturbing visuals and beautiful music that culminated in a near perfect film. It's sweet, silly, and yet wholly unnerving to look at life through this lens and I was having all of it.
Read my full review Soul – Review
06. Da 5 Bloods: War is hell, but Spike Lee was more interested in the lingering effects it has on the soul. This is probably the final major performance of Chadwick Boseman (and he's feeling like a lock to win Best Supporting Actor at this year's various awards ceremonies) and it's a doozy, but that's a backseat to the many other great things in this modern American guilt film. I say "guilt film" because it involves a lot of things we, as a country, did wrong. We got involved in the Vietnam War, we mistreated black citizens for decades, and our soldiers did awful things in the name of…something. Every character is experiencing a destructive form of guilt, and it is pulled off by some of the most incredible performances in a film this year. Da 5 Bloods isn't perfect, but it succeeds because of its flaws and not in spite of them. 
05. Never Rarely Sometimes Always: This wasn't a film that left me in tears. I didn't laugh, I didn't have a profound moment of realization, and there weren't wild setpieces with tons of special effects. Eliza Hittman's film left me utterly shaken. Hard, relevant subject matter and a beautiful lead performance made this one of the biggest surprises of the year. I was worried it wouldn't live up to the hype and was happy to be mistaken on that front. Small things like answering a questionnaire, two cousins lying to their respective mothers to get some free time, and simply finding money to eat dinner are all given more gravity and dignity than most teen dramas get. The last few years has begun to offer movies about people between 12 and 18 years of age that try to accurately portray the pitfalls and difficulty of merely existing, often without aiming to be comedic. Hittman has pulled this off with the grace of a ballet dancer and I'm so happy I finally got around to it.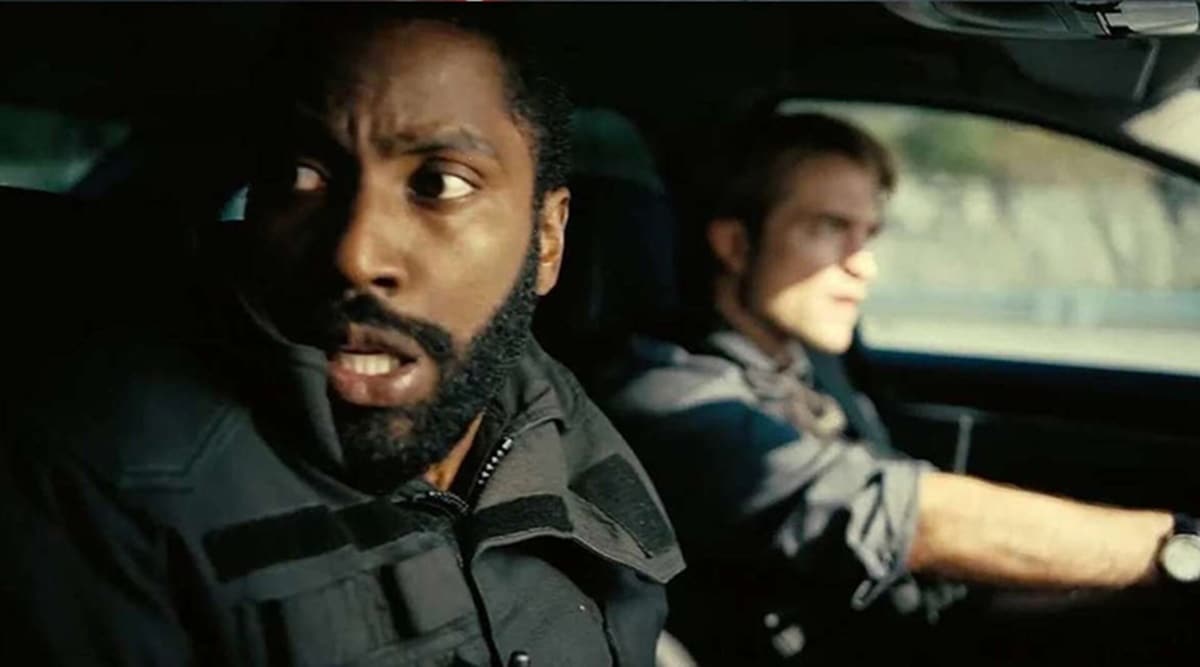 04. Tenet: My girlfriend threatened me over this one, telling me that it didn't belong in the top three. Upon re-examining my recency bias (and viewing the film about four more times since it hit Blu-Ray) I agreed with her. It DOES, however, belong at number four. This is the most "Nolan" movie he could have possibly made, a spy film obsessed with time about a cold and emotionless pro that learns to care about other people during a mission that involves hanging out with charming British people. It really does invoke everything he loves outside of covering up Tom Hardy's face, and I've found it a rousing success. It won't be to everyone's taste, but I got excited just hearing the wild physics behind it all. This is probably the biggest film of the year, and one that got a lot of hell over Nolan's insistence that everyone go to theatres amid a deadly pandemic. Don't let that kill your excitement, though, because it's a hell of a movie.
Read my full review Tenet – Review
03. First Cow: This is a film about two buddies in Appalachian America that start a donut business and dream of opening a B&B together. It's either a great male friendship movie or it's gay as hell, I can't tell which and honestly I just thought it was a sweet little story. First Cow is quiet and contemplative, relishing the sounds of the woods and hills in which it takes place. Our heroes are an unlikely bunch, two dudes that have different goals and find kinship in combining them. I honestly thought it was cute. You know, right up until it wasn't. It's brutal, it's hilarious, and it's utterly charming in just how sincere it is about the loving friendship between these men. Sure, it's very quiet and has extended shots of a dorky dude from the 19th century walking through what I'm sure is a blend of mud and shit, but that's just set dressing. First Cow is Kelly Reichardt's ASMR masterwork and it's one of the best films of this shitshow of a year.
02. Possessor: I love me some Cronenberg, even if this is Brandon and not David. The guy made a weird sci-fi/horror flick and I'm beyond delighted with it (this film spent months at my number one spot before I was honest with myself and had to make a change). The outdoor shots look like a Nolan film, the body-control scenes look like some bizarre Lynchian horror show, and the story feels like an awesome episode of The Twilight Zone taken to extreme measures. It's a film that I put off for a long time, unsure of what it was and scared it wouldn't live up to the extreme hype. See, I went into this completely blind. I knew the title and saw the poster, ignoring all trailers and even so much as a review. It takes you by surprise and refuses to let go until the final moments, compelling and disturbing all at once.
Read my full review Possessor – Review
01. The Painter and the Thief: An artist and the thief that stole her work. Tale as old as time? I didn't watch as many documentaries as I wanted to this year, bombarded by narratives in a year when we thought film would collapse entirely. This one, however, is just so beautiful. A fly-on-the-wall look at people connecting when they have every reason not to. One is striving for recognition and success, the other can't even remember stealing her work because he was so tweaked at the time. Watching this feels invasive and voyeuristic without making you feel guilty. I don't know precisely what the finale of this film did for the two involved, but I'd love to know where they are in life now. The Painter and the Thief is gorgeously photographed, quietly intense, and builds to such a predictable but hard-hitting finale that I just…I can't. I don't need to go on about it, just go rent the damn thing.
Read my full review The Painter and the Thief – Review
That was 2020 in film. There were a ton of surprises, a lot of casualties (will you people get vaccinated and be responsible so I can see No Time to Die in theatres?), and some truly wonderful pieces of entertainment. While this year was monstrous, I feel some hope and am looking forward to next year. I'll see you all in 2021, and I hope you stay safe out there!