Sueñitos (or "little dreams") is a theme that anyone can identify with. We all aim high, but for many it's the little things in life that make a home and family feel all-encompassing. Lin-Manuel Miranda created a musical about these goals, centered around highlighting the Latin-American community in a small New York City barrio. Only a couple of years have passed since his show made the leap to Broadway, and Hollywood recruited director John Chu (Step Up 2: The Streets [2008], G.I. Joe: Retaliation [2013], Crazy Rich Asians [2018]) to take the bright, sassy musical to the silver screen.
Usnavi de la Vega (Anthony Ramos) runs a bodega with his little cousin, Sonny (Gregory Diaz IV), in the area of Washington Heights. His shop, with it's light and sweet cafécito, is a sort of hub that everyone passes through on their way about their lives. The shop is frequented by Kevin Rosario (Jimmy Smits), a man that is scraping by to pay for his daughter Nina (Leslie Grace) to attend Stanford. She has returned to visit, unsure that she wants to return because of the alienation she feels outside of her small, Latin community. Usnavi's best friend, Benny (Corey Hawkins), works for Kevin at the local taxi cab dispatch. The shops other patrons include beauty shop owner Daniela (Daphne Rubin-Vega), local matron "Abuela" Claudia (Olga Meridez), and Vanessa Morales (Melissa Barrera), who is the love of Usnavi's life. Tensions rise with the heat as everyone heads to a bright, beautiful conclusion and we discover the fate of this NYV barrio.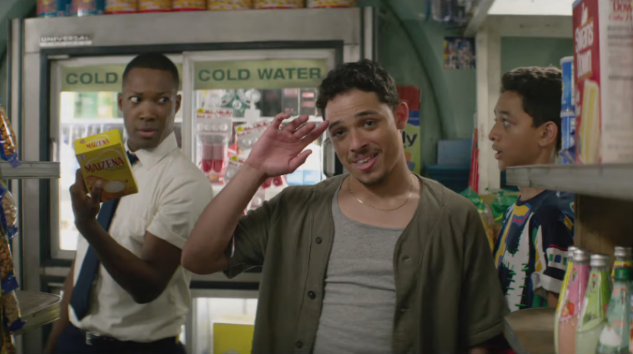 It's hard to put my exact feelings into words. Everything about Chu's visual pizzazz from his previous work has come to a point, with bright colors and beautifully choreographed dance numbers capturing every inch of the screen. While Crazy Rich Asians gave him a chance to explore high society and environments that could have leapt right out of a high-dollar rap video, In the Heights lets him take this to the street level. It's not as delightful, but what it lacks in real story or character depth it makes up in an avalanche of charisma and charm.
Miranda's musical needs those things, because the two and a half hour runtime is nothing to joke about. While none of it feels like a slog, the songs exist on enough similar beats and with enough overly-recurrent themes that it begins to wear on this viewer after some time. Numbers like "Blackout," "Paciencia y Fe," and "Carnival del Barrio" break up the structure enough to keep things moving and your ears from wearing out. Miranda may have never written a song as purely entertaining and diverse as "96,000" (my personal favorite from the tracklist). While modern musicals often suffer from a lack of songs (lookin' at you, Lala Land, even though I love you), here we've got an excess and it shows almost half an hour before the film ends.
Except Piragüero, the Piragua Guy (Lin-Manuel Miranda). That guy can get a spinoff all his own and I'd watch it.
Very few writers create an early work that isn't more personal than their later output. Miranda's musical, which first premiered at Wesleyan University in 1999, is centered almost completely around a small neighborhood that feels very open and important to the writer. The adaptation to the big screen has allowed his sweet, tender little musical rom-com to be seen by everyone. Trouble is that not many went to see this opening weekend, jeopardizing both Chu and Miranda's potential as big industry movers and shakers. Nothing is going to score a massive amount, particularly since we're just coming out of a pandemic, but it still stresses the importance of the theatrical experience for those that want more of this type of film available that way. Watch it however you can, but if your theater is open I urge you to hop on over and enjoy this bright, beautiful musical.
In the Heights can be streamed on HBO Max until July 11th if you'd prefer to go that route.