It's very odd to consider that something so on-the-nose can be so charming, but we don't really grapple with science fiction in the same way we used to. Nostalgia has become an obnoxiously widespread part of pop culture, and most don't want to admit that they buy into every bit because it's easier to look back than to a bleak, uncertain, almost guaranteed-to-be-doomed future. The issue is when we get lost in it, patiently sitting in it like a cacoon while we wait for our present to get better.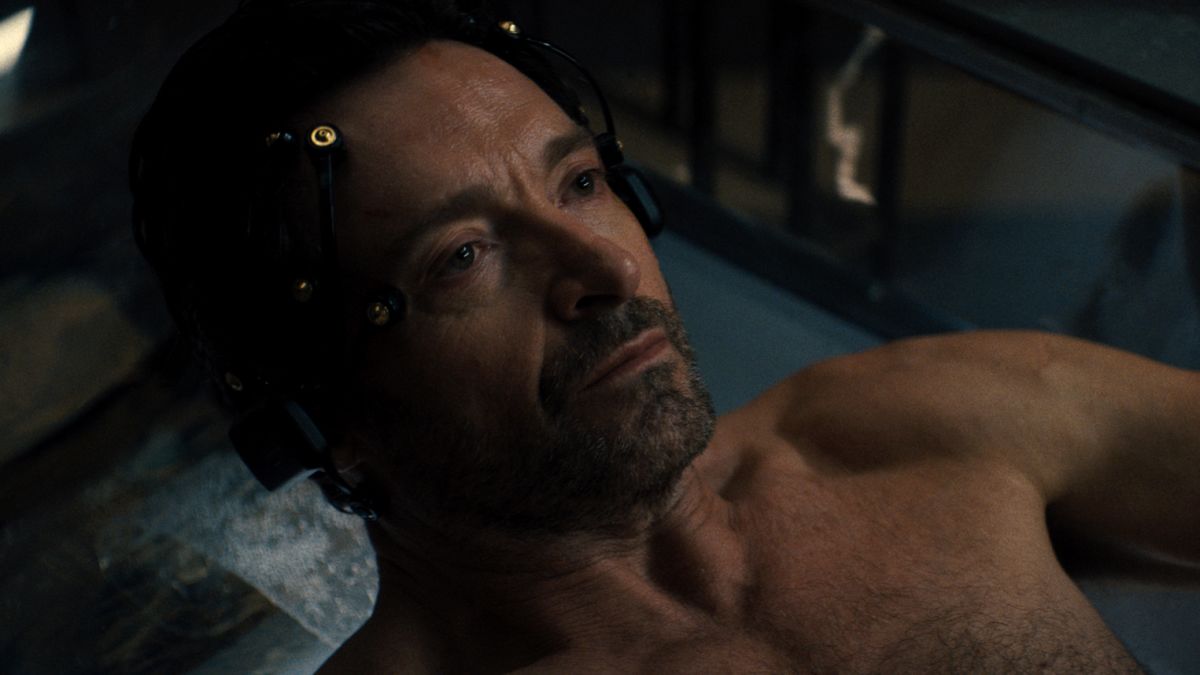 Reminiscence is the first film from Lisa Joy, written and directed by the Westworld co-creator, and it's a sort of time-capsule that we look at for both comfort and stomach-churning illness. Nick Bannister (Hugh Jackman) is a drug peddler. He doesn't sell anything you can swallow, at least outside of the hard pill of reality; instead, he sells an experience, one that involves a water tank and neural interface that lets you connect with your memories. Jackman's aging, sad, and suffers from PTSD after vaguely described "border wars" that ended in the rising seas bursting through levees to turn the coasts into abysmal slums. Working with Watts Sanders (Thandiwe Newton), he hooks people up and allows them to escape their depressing reality by indulging in their happier memories. He moonlights for the Miami PD, assisting in interrogations, but he doesn't feel good about it. When Mae (Rebecca Ferguson) walks in just as the two are closing up shop, desperate to find her keys, Bannister is smitten and indulges, her, leading to a whirlwind romance that ends in tragedy when she disappears. Nick searches throughout the drowned coast, learning that Mae was never who she said she was and questioning whether the woman he loves ever truly existed.
There's nothing truly new here, but some of the notes are played with such contemplative beauty that Joy's debut feels closer to classic noir films like Dangerous Passage [1944] or The Big Sleep [1946] instead of the sci-fi trappings of Roland Emerich's The Day After Tomorrow [2004]. She's taken her gimmick (capitalism overtaking society via climate change and nostalgia) and used it to launch a classic noir, drenching it in deep dark colors and Hugh Jackman's sweat to give us a voyeur view of a man's obsession with a woman.
Where I get hung up is the slavish attention given to certain shots, spending so much of the budget on making Miami look drowned or having Hugh Jackman swim through seats that once housed opera fans. It's all surreal and otherworldly (and coming like a freight train in our day-to-day reality), but it bogs down any attempt to make us care about these characters. I love Hugh Jackman. Thandiwe Newton is a treasure. Hell, Rebecca Ferguson could take over the entirety of Hollywood if she wanted to. None of these titans can outweigh the director's graphic novel vision, which leads to gorgeous shots that mostly don't add much to the narrative. Perhaps the most glaring issue is the fact that Ferguson doesn't get a lot to do. She's got so much character, but no onscreen presence despite her haunting the entirety of the film. Newton gets a good amount to do, Jackson is reveling in being Hollywood's hottest 50-year-old, and Ferguson just gets…set aside.
And that shouldn't take away from any enjoyment of the film, which feels all of fresh and nostalgic in and of itself. Joy, in a film about the dangers of nostalgia, cannot help but indulge in her own. There are wonderful sequences that feel like 40s noir, but also ideas that could have come from 90s sci-fi and horror flicks akin to what I watched as a kid. Sometimes it's okay to indulge in our nostalgia to escape, but Joy is putting enough seasoning on the noir to keep us prescient of issues that plague our society (the male gaze, climate change, drug addiction, etc) that everything feels relevant.
It really helps to have Ramin Djawadi creating the music. He's the man behind Game of Thrones and Westworld, but he hasn't produced anything truly incredible for the silver screen quite yet. This is the first of his film scores that I've truly connected with, his alto guitars gleefully melding with his timpani drums and atmos. We get several fun scores a year, but this is one of the first that I felt melded perfectly with its subject matter.
Reminiscence is a strange beast and one that won't tickle everyone's fancy. I had a good time with it despite some misgivings, and I feel a genuine excitement at the thought of showing it to my friends and family. Flawed, frustrating, but infinitely beautiful, Reminiscence made Lisa Joy a name to keep an eye on.
Reminiscence is currently in theatres and streaming on HBO Max until September 19th.