Paul Verhoeven's output has been a beautiful travesty, encompassing everything from sci-fi blockbusters to deeply erotic thrillers. His relationship with religion has been a complicated one and here it comes full-swing to smack you in the face.
It's mostly successful.
Benedetta is the latest from the Dutchman, an ostensibly-sordid affair involving a lesbian nun and her ostensibly-chaste visions from Christ. The story is taken from the book Immodest Acts: The Life of a Lesbian Nun in Renaissance Italy by Judith C. Brown. While the author took a more *ahem* academic approach, Verhoeven has chosen to tell the story as a searing indictment of the financial manipulation Christianity is known for while simultaneously telling a story involving a totem of the Virgin Mary carved into a dildo (hidden in the convent's ledger, of course). It's not a cute story, nor is it one that many within the Catholic Church are excited to have out there (those standing outside of movie theatres in protest of a story based on truth are hilarious). The wildest thing about the whole situation is just how adorable and tame the film is.
Ken Burns's The Devils this ain't.
Benedetta Carlini (Virginie Efira) has just been sold to an abbey. Her father, Giuliano (David Clavel), made a deal with the Abbess (Charlotte Rampling) to have Benedetta raised in the faith that means so much to her. After several years and at least one onscreen statue suckle, Benedetta is a grown woman with sexy dreams of her husband, Jesus Christ. When the young nun stands up for a stray named Bartolomea (Daphne Patakia) that seeks asylum from the constant sexual assault of her father and brothers, Benedetta simultaneously begins having everything from supposed stigmata to lascivious orgasms and her world begins to change.
I'm so torn on this film. Few filmmakers could create a meet-cute that's also a poop joke, but Verhoeven doesn't even seem to break a sweat. He unfortunately holds back in ways that I expected more from, holding back from the lewdness and violence involved to focus on a scathing indictment of fundamentalism and its hold over international politics. A film is often sold as more exciting than it truly is, but with Paul Verhoeven I expect something more shocking and less subtle. Benedetta is, by my measure, a very tame entry into the director's canon.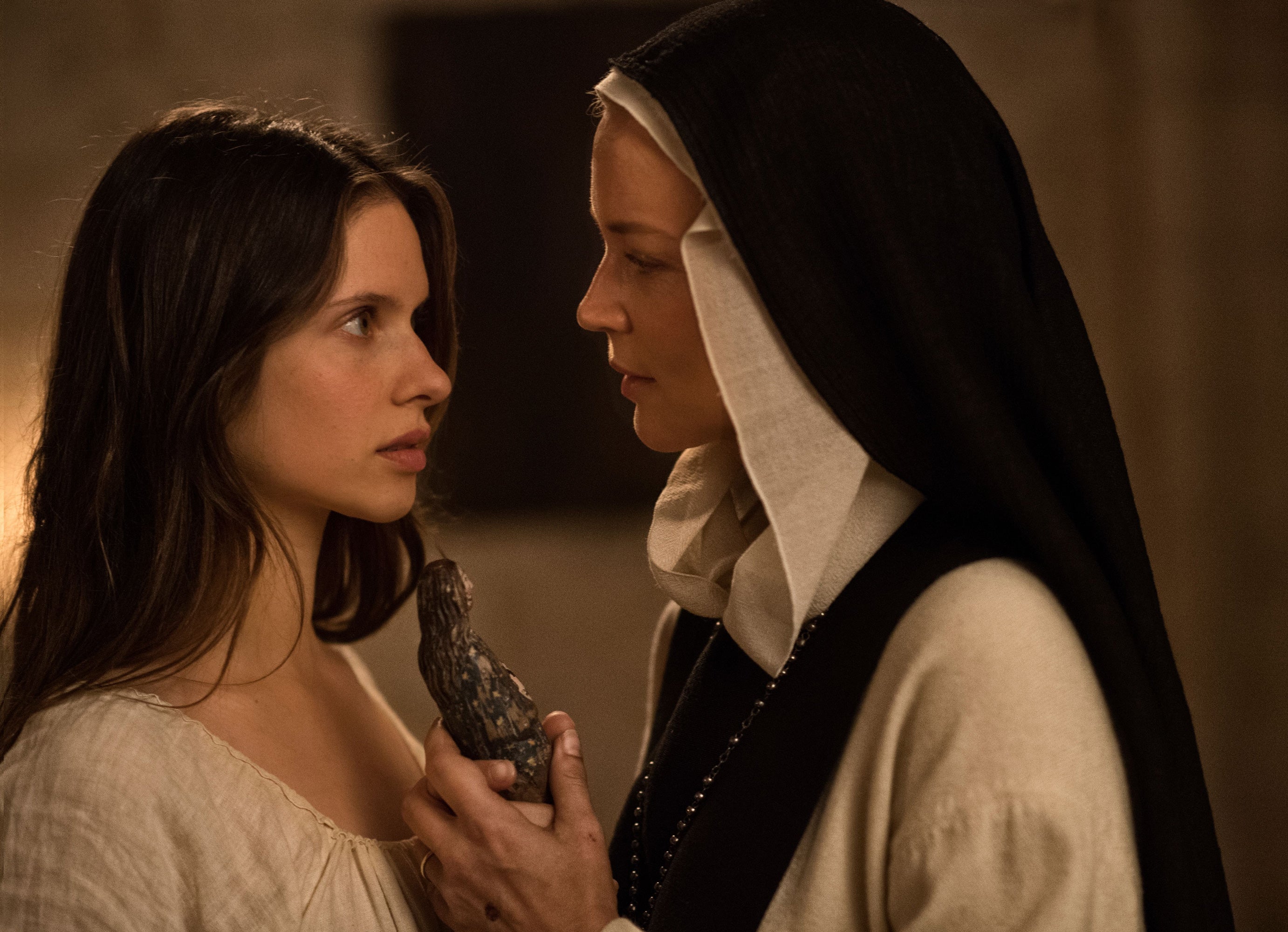 Little can be said of Benedetta, a fact that is truly the most frustrating thing about it. It's erotic but shies away from being sexy. It's violent but scared to fully embrace that nature. This is the work of an individual that wants to explore the trappings of Christianity and I'm all for that, but the film has little to say for most of its two-hour runtime and when it finally gets up to make a statement it turns into shouting. Benedetta can be sweet, hilarious, terrifying, and even charming. Its fatal flaw is that it's never aggressive; instead a cautious step from an otherwise audacious director.
Benedetta will release through all VOD retailers on December 21st.