We know this story. It's not so much that it's a surprisingly unique piece of fiction, innovative and bold in how it implements twists and turns surrounding a murder. The reason Agatha Christie's best Poirot novel (or at least my personal favorite) has endured is its ability to revel in how it executes its story. It's a surprising piece of fiction, one that offers as many rich characters as it does twists and murders, and I'm not surprised this is where this sequel went. Murder on the Orient Express would be the crowning jewel for many filmmakers; an adaptation of the most beloved novel from a whodunnit writer that knew how to engage an audience.
For Kenneth Branagh it was merely practice.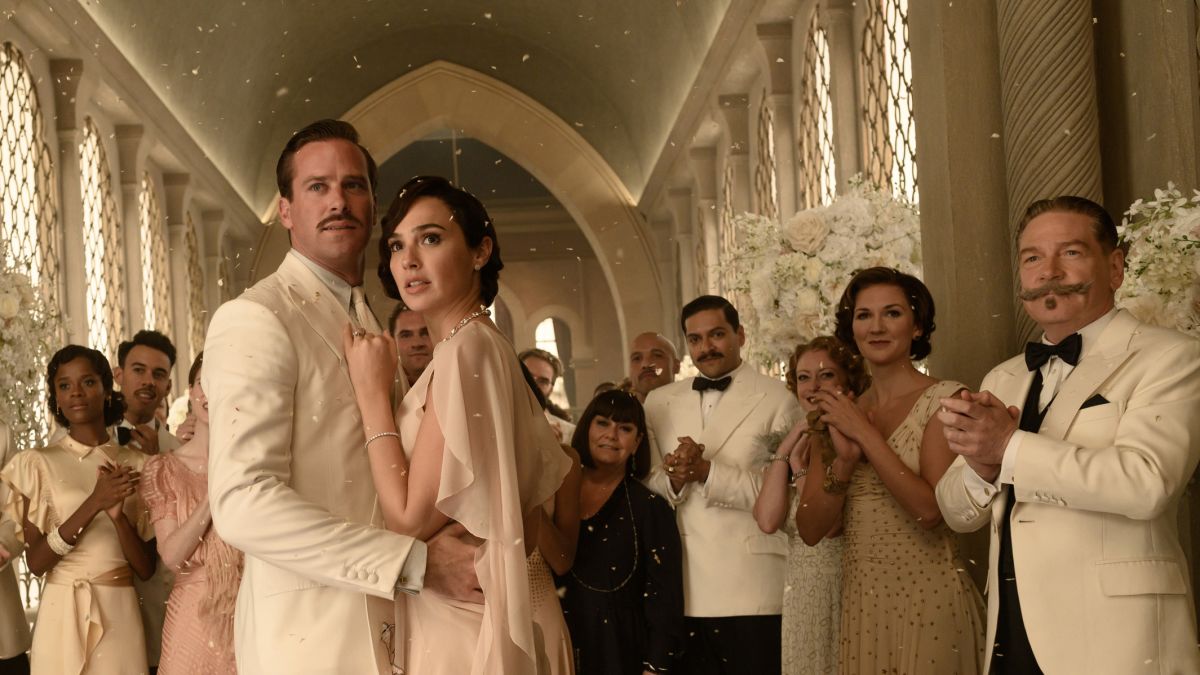 Death on the Nile is an improvement in almost every way, from the engaging mystery to the cast to the origin story for the world's wildest crumbcatcher (I'm beyond shocked that this silly concept had emotional resonance and an excellent payoff). Our bristled bloodhound is surrounded by friends that lie to him, lovers that lead clandestine lives, and a musician that's openly horny for his particular brand of egotistical self-aggrandizement. What really connects is the director's desire to turn Poirot from archetype to human, offering a mystery that revolves around love when the man himself has willfully exempted himself from the ability to feel the emotion. Cinematographer Haris Zambarloukos steps in and helps create an environment that makes a silly confession of love between two friends feel like a Catholic confession, aided by the environmental setup. I literally gasped.
We start with a tale as old as time. Jacqueline de Bellefort (Emma Mackey of Netflix's Sex Education in a potentially star-making performance) is engaged to Simon Doyle (Armie Hammer in a role that doesn't feature the actor's kink for cannibalism). Trouble is that she introduced him to rich scion Linnet Ridgeway (Gal Gadot) and within six weeks Jackie (as she's called) he'd left to marry the wealthy heiress. As the couple honeymoons in Egypt, wedding party full of individuals that might or might not have it out for Linnet over her bank accounts, Jackie continues to stalk them. Hercule Poirot (Kenneth Branagh) is invited to run away with them on the river steamer Karnak, but what was supposed to be a pleasant getaway turns into a murder mystery when one of the passengers appears dead. Poirot must solve the mystery and find the killer before the body count stacks high.
And that body count does indeed stack high. It's not a ton of deaths, but it's more than one and that's an upping-of-the-ante that I'm fine with. Many sequels go from a charming first film into a bombastic, as-big-as-possible follow-up that drowns in its own excess. Death on the Nile is often slavishly loyal to its source material, but that keeps it in check and serves as an expansion instead of an explosion.
Murder on the Orient Express saw the world's greatest detective (Batman can't have a 'stache like that) solve a murder in a fun little film that showcased an all-star cast, enough Dutch-angles to have baked into a Dutch-baby, and the murder of Johnny Depp within the first ninety minutes. Death on the Nile goes for stars that shine less brightly in the sky but that disappear further into character, allowing Branagh to place his detective at the forefront and develop himself a bit more. This film was delayed many a time because of the COVID-19, but more recent delays have been theorized around the inclusion of Armie Hammer. The cannibalistic actor is currently facing criminal charges and it seems to have forced the studio into trying to bury this wonderful film. It's a shame, as the rest of the cast is delightful. When comedian/actor/podcaster Russell Brand popped up I almost fell out of my seat. I was expecting his character to be large and obnoxious like the man himself, but instead we were served something more sad and subtle that worked well and gave the performer a chance to do something different. Annette Bening pops up and does her thing, playing the overbearing mother with such eerie confidence. Perhaps the most charming casting is Sophie Okonedo as musician Salome Otterbourne, a blues musician that arouses the desires of Poirot after years of burying any sort of sensual feeling.
As Branagh stepped up his game for Death on the Nile, so did longtime collaborator Patrick Doyle. The composer's score for the first film is fine, but it again seemed like a warmup for this film in hindsight. Doyle goes for broke, creating a bombastic and rousing series of tracks that elevate a gorgeous set of visuals. I'm honestly just thrilled that someone set something in the Middle East without accompanying it with excessive ululating and xenophobic stereotypes (lookin' at you, Junkie XL).
Death on the Nile is a shockingly good time, and it's a wonder we get anything like this anymore. Branagh is currently in the conversation for an Oscar over his film Belfast, a charming semi-autobiographical story set in a troubled Ireland, but this feels like the more fun film. Somehow more personal and less all at once, Death on the Nile is a man flexing his muscles as he confidently strides into the light after taking some time in a quieter world. I'm thrilled with his latest film and I hope you all take the time to go out and see it.
Death on the Nile is currently in theatres.