Craig's run on Bond has always been more unique than his predecessors. While each before him was interchangeable, the missions and settings being more important than any sort of character development, the series rebooted in 2006 with Casino Royale and tried to do something far grander. The idea of this new, wholly flawed, and wholly human Bond was cemented in Quantum of Solace, the first in the series to pick up exactly where the previous film had left off and cement an ongoing narrative. Bond went from cocky clandestine to avenging pit bull, growing and changing with the situation. They took his great love from him, breaking him into the brutal man he became later. They took his mother figure (and the only person he's truly trusted) from him in Skyfall, and kerfuffled him into losing his dignity in Spectre. I find that final film okay, and far from the travesty many painted as (have they SEEN A View to a Kill?), but it was the first true loss for Craig and many felt that he'd leave on that note. It has long been a tradition for Bond actors to end on a sour note, with Moore abandoning the franchise after the aforementioned awful entry and Connery bailing after You Only Live Twice. Connery briefly returned, but only after a brief stint by George Lazenby in On Her Majesty's Secret Service.
It's this film that I want you to keep in mind as you enter the final film in Craig's run. Those goddamned alpine horns…
No Time to Die had a highly fraught production, but you'd never know it looking at the final product. Few outside of those that obsessively read film journalism will care, but Danny Boyle (28 Days Later, Slumdog Millionaire, Steve Jobs) almost had a stab at this before parting ways with the production in late 2018. He was replaced by Cary Fukanaga, a name director known for gorgeously ambitious projects like the first season of True Detective and his unproduced script that adapted Stephen King's IT. Standard Bond writers Neal Purvis and Robert Wade were brought in so they could pen the script, but it's the entry of Phoebe Waller-Bridge that shines through. The bow on this troubled series of events was the entrance of Hans Zimmer, whose music has had a large influence on Bond scores since the exit of composer David Arnold. Thomas Newman scored Skyfall and Spectre in homage to Zimmer's work on Nolan's Batman films, and officially adding him to the mix felt like a misstep.
I'm overjoyed to have been wrong.
Two hours and forty-three minutes is nothing to shrug off, and as the longest Bond film in the entire history of the series, it needed to justify that run time. A significant amount of that is dedicated to both acknowledging the good aspects of Spectre and to pulling the lesser seeds up from the root. It's a tricky tightrope to walk, but Philippe Petit couldn't have done better.
James Bond (Daniel Craig) is living the good life at the beginning of No Time to Die, but we flash even further back to see the death of Madeleine Swann's (Léa Seydoux) mother at the hands of a masked figure. We heard this story briefly in Spectre, but its shaky connection to our latest adventure is an interesting one that…well, works as well as it has to. Lyutsifer Safin (Rami Malek) murders the woman in cold blood, a stumbling hulk with burn scars all over his face and a persona that would make Jared Leto wet with jealousy. Flash forward to the present and Madeleine is taking James to Materna, Italy so that he can visit the grave of Vesper Lynd. Bond is asked to forgive her, the idea being that he can properly enter a loving relationship again by letting his anger go. A series of explosive events leads to perhaps the most thrilling action sequence in the film, but that's a distant second to the emotional drama playing out between our lead and his doe-eyed beloved.
It's this sequence that begins cleaning up this entire franchise. Felix Leiter (Jeffrey Wright) returns and asks Bond to go to Cuba, helping the CIA to locate a missing Russian scientist. Help is needed from an incarcerated Ernst Stavro Blofeld (Christoph Waltz), who is doing his best Hannibal Lector impression. Bond's MI6 family even reunites for the entire affair, with M (Ralph Fiennes) joining Q (Ben Whishaw) and Moneypenney (Naomi Harris) to help Bond in this one last grand adventure. They're joined by Nomi (Lashana Lynch), who has taken over Bond's "007" moniker after his retirement and who is every bit as snarky and capable as he is.
All of this is thrilling, and it builds to a grand climax, but the true star of the show is just how far Craig's Bond has come. It gets a lot of clicks to publish articles that discuss how this is a Bond for the #MeToo movement, about how refreshing it is to see a sensitive man instead of a quippy rapist, and about how meta the stories have been but…it is. Bond isn't a himbo by any means, but we are finally allowed to see him as a human being instead of a superhero with no weaknesses and no regard for the destruction of the lives around him. As far back as Quantum of Solace, we saw that this is a man that knows what the job is, but doesn't exactly enjoy doing it. There are complete resolutions that show us exactly who he has become, relishing in the good and bad that has come before, and the payoff is exquisite. This remains an action film, but for the first time we've also got an emotional Bond film.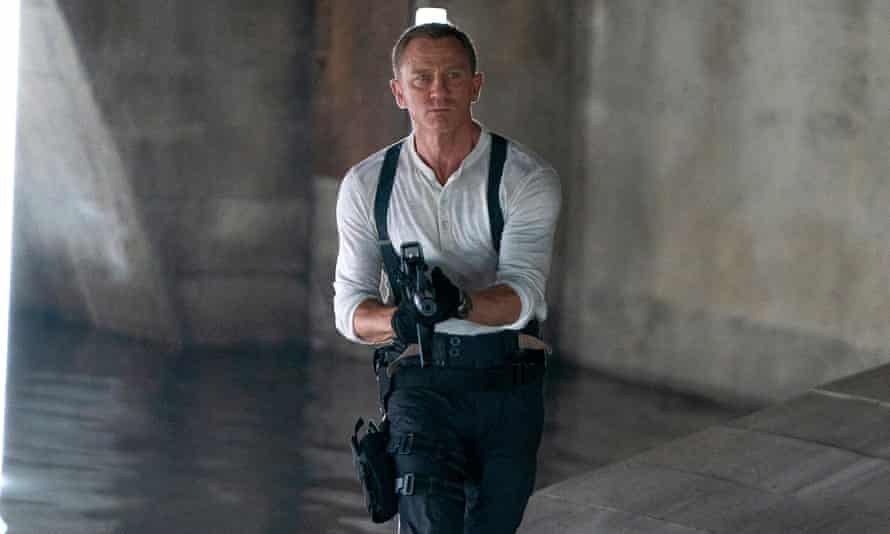 I cried. Screw it, I don't care who laughs at the idea of that. It's definitely a silly idea, a man openly sobbing at multiple points during one of the most macho and testosterone-driven franchises in existence, but that's the power of what this team has brought together. Zimmer reaches back to pluck the heartstrings with references to John Barry's opening song for On Her Majesty's Secret Service (as well as Louis Armstrong's "We Have All the Time in the World"), as well as his take on Bond's traditional theme. Music has always been key to these films, but Zimmer takes time to use not only cues from Billie Eilish's theme song but also weaving previous music into this new take on the character in order to state that this is Bond now. Gone are the days of Sean Connery raping a lesbian straight (see Goldfinger), the days when Roger Moore can casually offer caviar to a woman young enough to be his granddaughter as foreplay, and far removed from Brosnan's horny schoolboy charm. This is Bond for those that want to invest in who he is as a person, and everyone has come together to paint that picture in music and imagery.
This isn't going to be for everyone, but Craig's run has been quite special to me. Its two lesser entries still hold an important place in my heart, and his final appearance is a stunning tribute to not only what came before but what's coming after. No Time to Die has clunky moments, some awkward dialogue, and the film struggles to make up for what preceded it but…I wouldn't have it any other way. I got a supervillain that lives in an island lair with a gimmick, some gadgetry, and the traditional globe-hopping adventure but it's so much bigger. I want Bond to take a break for now. Let this era breathe a little while the dust settles. It was a trek across a desert just to get to see this film, and I want to marinate in the entirety of Craig's run before anything further happens.
I mean…we have all the time in the world.