There's nothing quite like Janicza Bravo's Zola, a film based on a viral Twitter thread known as "#TheStory" that was posted by A'Ziah "Zola" King in 2015. While some names have been changed in the film (despite the fact that we know most of the real names for the individuals), the events mostly follow what has been seen as a poetic portrait of melodramatic America in the eyes of many online creatives.
Zola (Taylour Paige) is working as a waitress and meets Stefani (Riley Keough), who invites her to dance with her at a strip club. They bond over social media and Zola is immediately invited to join the mysterious woman in Tampa, FL, where they can supposedly earn over $5k a night. Upon entering the vehicle, Zola is introduced to Stefani's "roommate," X (Colman Domingo), and her boyfriend Derreck (Nicholas Braun). The road trip begins, as does the discomfort, before everything spirals into a thick soup of sex, money, and violence.
Nothing exists like Zola, brought to gorgeously chaotic life as Bravo's sophomore effort. It feels as much like a Twitter thread as possible, disturbingly unsexy despite all of the sex and clever despite the abundant idiocy, and each discordant piece brings a disturbing reality to the events portrayed onscreen. Bravo's camera moves as though shooting a found footage horror film (cheers to cinematographer Ari Wegner) and the score (Mica Levi delivering yet another banger) brings a hallucinogenic sensation to the proceedings. The film was sold as a fusion of Harmony Korine's Spring Breakers [2014] and a social media sensation, but it actually reads more along the lines of Sean Baker's Tangerine [2015] than anything else.
Some parts of the initial moments lend a queer reading, as Keough's Stefani and Paige's Zola have immediate chemistry while making "fuck me" eyes and stripping together to the glee of horny onlookers, but the sheer audacity of Keough's character moves everything away from that and into a bottled event wherein Zola is forced to interact with two idiots and a sociopath. Her disgust and pity of everyone involved gets buried deeper and deeper alongside the hole Stefani is digging herself into. Nothing is off the table, no level that these individuals won't sink to, and once the tension begins to tighten the audience has no choice but to squirm uncomfortably or leave (the couple in front of us walked out twenty minutes in).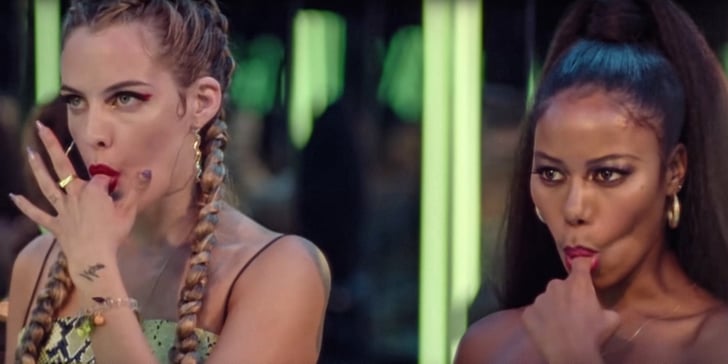 It's a shame that this will be too uncomfortable for most filmgoers, as its brutality and vicious attitude are a nice mirror for modern America, shaving away all of the sheen to expose the sex, violence, and eerily dangerous parasocial relationships brought by tertiary interests and the immediate access of social media. Bravo hasn't crafted a masterpiece, but the cleverness of her script and the efforts of the entire creative team have built a fascinating and thrilling story that is still somehow based on one of the first viral Twitter threads. I won't tell you to enjoy, but I will wish you the best of luck with this insanity.
Zola is currently available in theatres.