Last year I typed this up during an attempt to overthrow the country so…yeah, I feel slightly better about this go-around.
Nothing really beats the end-of-the-year insanity, with films the rest of us spent months hearing about trickling out of New York and Los Angeles to hype everyone up for an Academy Awards ceremony most won't watch. There was more good than bad this year, with most films on my list becoming important long-term entries into my own personal canon. Legacies were revisited, roles retread, and some genuinely important art was dropped unceremoniously to streaming services. It's another year that saw me adding blockbusters onto my list in utter shock at the quality we got from legacy artists and young bloods alike. It was a landmark year that opened with violent insurrection and has ended with all of the thrill of a quiet fart, but for film there's been some monumental movement despite the homogenization of the ones appealing to general audiences.
First, we need to acknowledge some of the wonderful films that just barely missed my top ten of the year. They are, as always, in no particular order (you know the drill at this point).
Honorable Mentions
Old: M. Night Shyamalan is too cool for you and he has no desire to be otherwise. His latest film is an aggressively uncommercial contemplation on being a parent, being young, and the horrors of growing up too fast in a world that won't settle for less. I adored it despite some flaws, and those of you that skipped it have a good time to look forward to. Read my full review here.
The French Dispatch: There was a Wes Anderson film this year and I'm so in the pocket for his schtick. While I didn't adore The French Dispatch it's certainly a great time, a sweet and savory set of courses that felt like a multi-course dinner you don't regret. It's some of the most fun I had at the theatre this year and I hope you all go into it looking for as good of a time as I got. Read my full review here.
Shiva Baby: This was a complete and total surprise to me. I had no idea what to expect when I went in, having seen no trailers and only going on what I heard coming out of SXSW. A film that is this positive about a multitude of underappreciated communities (Othodox Judaism, sex workers, LGBTQ+) really threw me for a loop. It's constant ramping of hilarious tension didn't hurt, though it certainly left me with a headache and a bellyful of laughter. It's a stunning surprise, and it's on HBO Max for those that think they can stomach a comedy this intense.
Pig: We love Nic Cage. We do, and you can deny it all you want, but when he hits he does so with glee. Pig is the debut film of Michael Sarnoski and it's an absolute triumph. Funny, tragic, and traumatic as it can get, the film blends shades of First Cow [2021] and John Wick [2014] by way of Ratatoullie [2007] and pays off like a busted slot machine. Read my full review here.
Zola: No film has ever existed in the same way that this one does. It watches like a Twitter thread reads, contains a riveting performance by Taylour Paige, and is scored by the legendary Mica Levi. A couple walked out of my screening while my fiancee and I sat cackling at how batshit insane the plot was, something I'll treasure to my dying day. Read my full review here.
These are films you should check out, and are streaming on everything from HBO Max to Hulu. They didn't make my top ten, but they didn't miss by much and I think each one is special to me in its own way.
And now…on with the show!
10. C'mon C'mon: Mike Mills came to the general audience in 2016 with 20th Century Women, a film that showed an incredible depth of empathy in a world that was experiencing open and aggressive hatred. C'mon C'mon, his first film since, is in the same vein but seems directly engineered for me to fall in love with. Joaquin Phoenix's turn as Joker may have won him an Oscar, but it's his work with young Woody Norman that truly pulled at my heartstrings. I didn't see this until about a week ago and I couldn't have been happier with the wait. It's a film that made me feel about the struggles I went through with my niece, and that understanding was stressful and gorgeous all at once.
09. Licorice Pizza: This one's a complicated film to discuss. My viewing of the film was a gasping sprint from beginning to end, all of it interspersed with moments of Bradley Cooper playing Jon Peters as a horny Terminator fueled by cocaine. The depth lies in the honesty of relationships, many of which are as unhealthy and disturbing as a day in American youth culture. Most of these interactions are as unhinged as a used car sales pitch and as consistent as a father that left for cigarettes and never came home, but once in a while everything falls into place. Paul Thomas Anderson's 70s hangout flick is in the upper echelon of his canon and his lead, Alana Haim, make for a powerful combination. Read my full review here.
08. CODA: You'd never know what Emilia Jones was capable of if you'd only seen her in Locke & Key. While she may be perfectly charming in the adaptation of Joe Hill's incredible comic series, Jones steps up and becomes something transcendent in Sian Heder's CODA. A remake of a French film, this do-over has the absolute gall to cast deaf people as deaf people (go figure), and that secret sauce combined with the meat of Emilia Jones's performance creates a dish worth savoring. This dropped on AppleTV+ after getting rave buzz from Sundance, and I urge you all to give it a shot. It's the most charming coming-of-age tale I've seen in quite some time, and I hope you all enjoy it. Read my full review here.
07. The Matrix Resurrections: Rarely does a film so successfully tell me to screw off, you know? Lana Wachowski returned to the film that made her name in a sequel that manages to insult the very idea of itself while simultaneously celebrating the impact it had on my generation. The fact that it turned out to be sincere, romantic, hilarious, and vibrant in an era where franchise filmmaking turned into an ouroboros is just icing on the cake. It rules and most audiences hate it, which tickles me to death and serves as a celebration of the other sequels. It's a beautiful entry into an era desperate for something to call general audiences on their bullshit, and I'm just delighted at how wonderful it wound up being. Read my full review here.
06. West Side Story: The original film exists in the cultural consciousness as something we all recognize, whether we've seen it or not. When this was first announced I thought it was a dumb idea, and I'm overjoyed to say it's the most "movie" I've seen in a long time. While the performances are stellar across the board (except Elgort, who is merely fine), sitting through the birth of a movie star is always special. Zegler is that star, a new voice in a classic story that manages to shine beyond what you'd expect from her. Questioning Spielberg is something I keep doing and I keep being put in my place when the octagenarian slams out banger after banger, but watching West Side Story feels like him paying off his entire career in one film. Read my full review here.
05. Titane: "Holy shit" is the appropriate response for Julia Ducournau's latest film, a fleshy and filthy film that is as loving as it is savage. The fact that all of the buzz and discussion only goes over the first ten minutes should tell you how wild this one is. It's a beautiful thing to truly acknowledge found family, a concept I fully support, and to see it drenched in as much nipple-leaked-motor-oil as it is (you heard me) wound up being very sweet and caring. The bizarre and open discussion of these points is as on-display as the highly homoerotic fireman dance parties, and all of it feels as genuine as it does insane. It's one of the best films of the year. Read my full review here.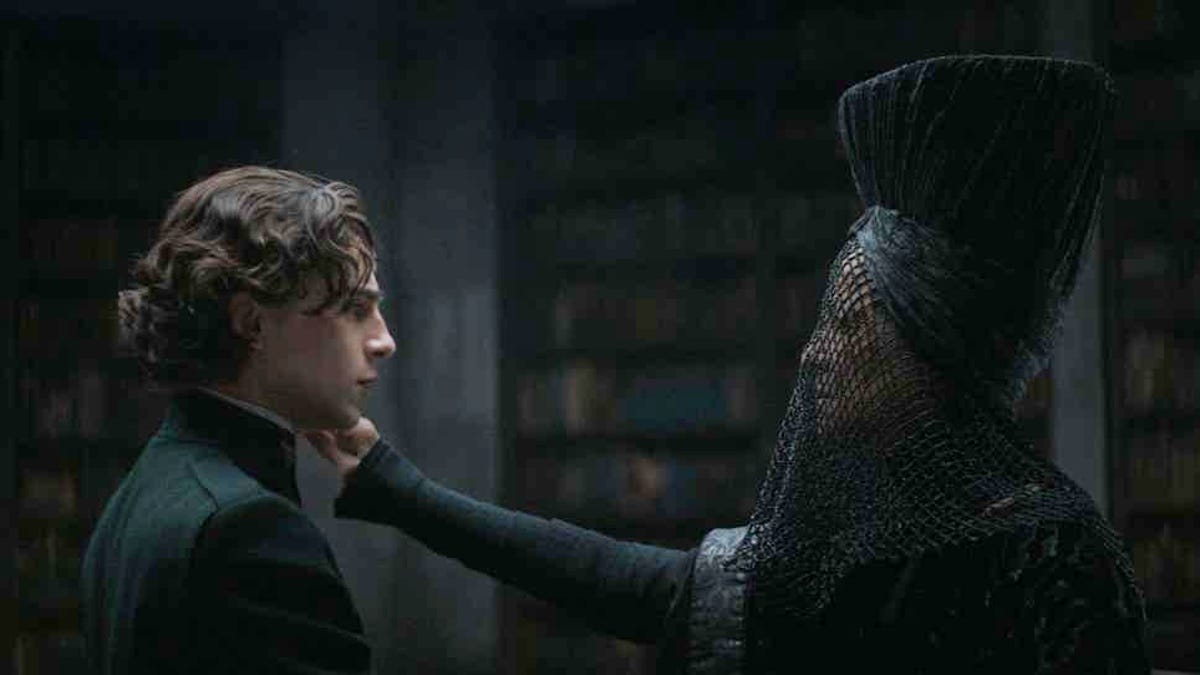 04. Dune: I'm struggling to not pop this on top, I really am. Dune is an important story to me as the birthplace of things like Star Wars; the subverted hero's journey that keeps on asking us to freak out about what is asked of this dangerous savior character. Frank Herbert's novel has been adapted before, but where David Lynch's film failed (I love it, don't get me wrong) this one succeeds in the showiest way possible. It's the best-looking film of the year, it's the best score of the year, and it's got Stellan Skarsgård in a fat suit. What the hell else do you want? Oscar Isaac as Zaddy, you say? Done. Read my full review here.
03. Spencer: Kristen Stewart can strut in and claim the Oscar as far as I'm concerned. The decision to portray Princess Diana's Christmas with the royals as though she were Jack Torrence in The Shining is a brilliant one, equally matched by the performances from within the greystone architecture of this haunted visage. Spencer is Pablo Larrain's answer to his obsessively manicured Jackie and it serves as a handshake to that film. I genuinely adore it and was poised to make it my film of the year until a couple snuck above. An unsettlingly interactive experience, Spencer will continue to be as empathetic as it is frightening. Read my full review here.
02. The Power of the Dog: Benedict Cumberbatch longing for a character named "Bronco Henry" in a film hiding its sensitivity behind toxic masculinity? And it's directed by Jane Campion? And scored by Johnny Greenwood (of Radiohead fame)? Sign me up! The film premiered at the Venice International Film Festival in September, leaving me to wonder just how good it was for two whole months. I'm pleased to say that it honks like a mating goose, equally as charming as it is vicious. Campion's work is gorgeous, but her cinematographer (Ari Wegner) weaves personal closeups with massive landscapes effortlessly. Hell, he shoots the shit out of a banjo, making it the most sinister thing in the film. The Power of the Dog is mean, quiet, ruthless, horny, and repressed. Only one other film this year could go beyond…and you should read my full review here.
01. The Green Knight: I had to ask people if I was being precious about this one. It's so stunning that I lose my breath a little when certain sequences come up, and after six viewings that's not gone away. "Primordial" is the word I use to describe this film, at once about the breadth of human existence and also about how meaningless it is in the face of true staying power. Did that sentence make sense? It shouldn't, but when thinking about David Lowery's The Green Knight it all feels applicable. Few films can make the main character's beheading feel like a triumph and few others have a final, wordless sequence that feels as impactful. So many films bring me to tears, but few do so with little more than visual cues. I truly adore this film, adding it to my canon as one of the best I've seen in a long time. It's brilliant, and I just want you to experience it while we all have that time.

That's my list! I'd love to hear from everyone and see what their top ten wound up being. Stay safe out there, and remember that there are bright lights like these in the darkness.