Wes Anderson has been a staple of my life for the last decade. My affair began with a hungover watch of most of Moonrise Kingdom on a computer with a friend and has been a significant part of my cinematic euphoria ever since. Quick, smart, symmetrical – each film contains these qualities and more. Messy familial relationships and the catharsis of snapshot memories, of rose-colored lenses tinting tragedy with delight, has been his specific oeuvre throughout his adorably twee career.
And now, dear friends, we've been gifted an anthology film from this overtly specific artist.
Intro: Death as a Beginning
Arthur Howitzer, Jr. (Bill Murray) has just died. The ex-patriot left Liberty, Kansas, and flew to the French city of Ennui-sur-Blasé to bring the world to his small hometown. The literary magazine grew to half a million subscribers and numerous frivolous and ridiculous expenditures as Howitzer cultivates his writers' needs. Upon the opening of the film we find that he has died, and are instructed to flip through his will with the survivors at the paper as they begin to create the final issue; all with the specific requirement that they (and we) do not cry. It is on this charmingly silly bedrock that we will stand as we take in the stories that compromise the final release of this paper. It is also noted that subscribers will be issued a refund for any issues they will not be receiving due to the death of Howitzer and the subsequent cancellation of the publication.
The Cycling Reporter: A Bicycle Tour of Ennui-sur-Blasé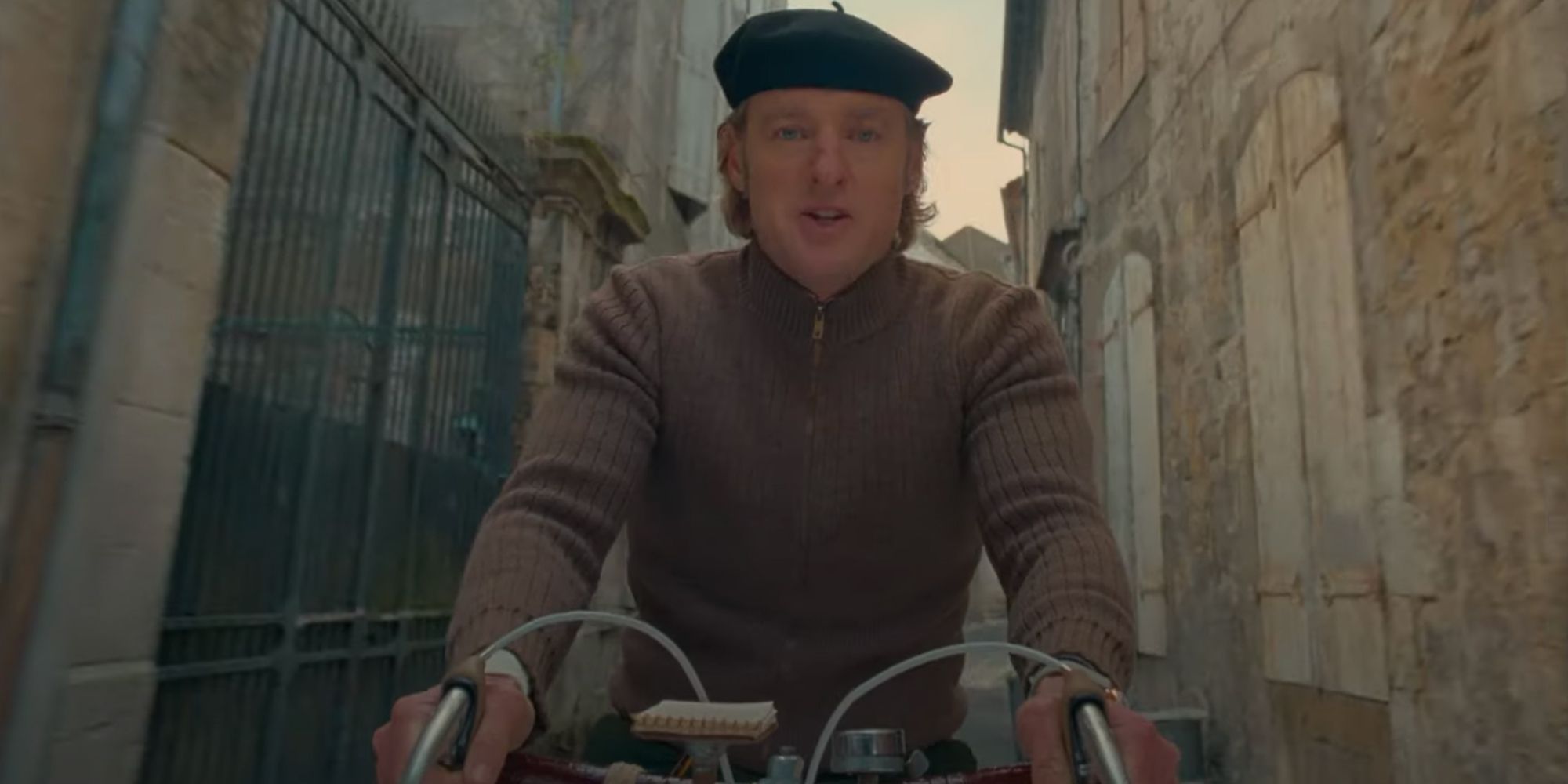 Young reporter Herbsaint Sazerac (Owen Wilson) graciously takes us on a bicycle tour of locations throughout the town. Anderson has long been obsessed with eras long gone; revolutions and relationships experienced through design and music that evoke something we seem constantly on the verge of forgetting. Sazerac's segment is perhaps too stylized, but the scene-setting and charming cartographical tour are appreciated later in the film when we revisit these spots. Cats on rooftops and rats in railways aside, the point of the exercise highlights that no matter how much has changed aesthetically the city hasn't changed too much beyond that. It's bafflingly self-aware of Anderson, a man that's often lost in the obsessive specificity of his designs, and it's much appreciated despite the total lack of application this awareness has on the rest of the film. Cute, silly, and more fun than Wilson has had in a while, the bicycle tour shows Anderson at his best and worst.
The Concrete Masterpiece: An Exercise in Horny Inspiration
This whole movie is is a minefield of thirst traps, but perhaps none so overtly romantic as the tale of the insane artist Moses Rosenthaler (Benicio del Toro, Tony Revolori) and his muse, Simone (Léa Seydoux). The artist falls in love with the woman, a guard at the prison where he is incarcerated for murder (it's implied he lost his temper watching two bartenders bully an elderly patron), and convinces her to pose nude for him. His piece, "Simone, Naked, Cell Block-J Hobby Room," is seen by the tax-dodging Julien Cardazio (Adrien Brody). This launches him to stardom and complicates his relationship with Simone.
Anderson's choice to mix black and white footage with vibrant color for portions of his film becomes a complicated storytelling device, and it's one that I have mixed feelings about. It is specifically utilized to highlight the memories of the writers and crystallize beautiful moments in their memory. J.K.L. Berenson (Tilda Swinton) is working on a piece to remember a night of passionate sex with the artist, and her involvement with him taints the story behind the scenes as she regales an art museum with the tale of how Rosenthal's most famous piece came to be. It's a difficult story from Anderson, one that applies a significant male gaze towards Swinton and Seydoux despite their obvious willing participation. The noir-esque lack of color applied to the latter grows particularly strange when she is posed time after time in full frontal nudity with none of it being particularly sexual. Anderson's relationship to sex is usually as chaste as it gets, but here he steps out of his comfort zone to mixed results.
It contrasts nicely with the slapstick humor; a screwball comedy held up to an artist's need for a muse that reflects Anderson's frustration with the need for his work to be sold and scrutinized. Perhaps the most autobiographical of the tales, "The Concrete Masterpiece" maintains its grounding in the director's style of humor while venturing out into territory he's clearly not completely comfortable with yet.
Revisions to a Manifesto: The one with Timothée Chalamet
We've all had time to grow to love this kid, right? Wes Anderson decided he'd dress him up like a Tim Burton wet dream, have him play chess as a form of revolution, and bed staff writer Lucinda Krementz (Frances McDormand). "Revisions to a Manifesto" is constantly lost in its need to remind us that youth is wasted on the young while also insisting that new generations need to find their own meaning. It's the weakest of the three main stories, but it might also be the most Wes Anderson-y of the bunch.
And why wouldn't it be? Zeffirelli (Timothée Chalamet) is the type of actor that seems born to work for this director, spindly and pretty in a way that is almost irritating. His romances with Krementz and fellow student Juliette (Lyna Khoudri) are born from antagonistic flirting, something that looks great on camera when Anderson wants to play with his particular stylistic loves. It also happens to be a perfect metaphor for the idea of revolution itself – pent-up explosions of feelings that are executed through angry poetry, neo-liberal ideals, and sex. It's tough, triumphant, and often tragic, and Anderson gets that in his need to explore how these things often wind up as t-shirts sold by companies that represent the opposite ideal of what these youth desired to achieve.
It's unfortunate that this is the sloppiest of the three. When it hits it's a blast, hilarious and awkward, but too often it gets lost in its own type of manifesto. That may have been the point, but Anderson tries so much that it often doesn't work.
The Private Dining Room of the Police Comissioner: Jeffrey Wright Chows Down
This is perhaps the most experimental of Anderson's shorts, merging Tin-Tin style comic book animation alongside the style of the rest of the film. It's portrayed as a recollection recited by Roebuck Wright (Jeffrey Wright), a black homosexual living in Ennui as a writer, as he's being interviewed by a TV Show Host (Liev Schrieber). Recounted is the tale of his meal with the Commissaire (Mathieu Almaric) as cooked by Lt. Nescaffier (Stephen Park). The Commissaire's son, Gigi (Winston Ait Hellal), is kidnapped by criminals led by a villainous Chauffer (Edward Norton). The ridiculous action setpieces that ensure are where Anderson finally shows off everything he's capable of, blending visual styles and charming performances from a variety of wonderful individuals (Siaorse Ronan is a side character in this and we WILL celebrate that).
This is also, thankfully, where composer Alexandre Desplat hits his stride. The composer has relied heavily on quiet, repetitive piano music up until this point, but here he brings the rest of the orchestra in for long sections and the payoff is a rhythmic backdrop to enough comedic action for everything to finally fall into place.
It's also here that Wes Anderson decides to make his statement, his message delivered by Park in a final interaction with Wright that is, oddly enough, too sad for the writer to want to include it in his piece. It's a joyous bit of tomfoolery on Anderson's part (the cinematic equivalent of having one's cake and eating it, too), but this moment works well enough to wash away almost any complaint to be found with the film.
Obituary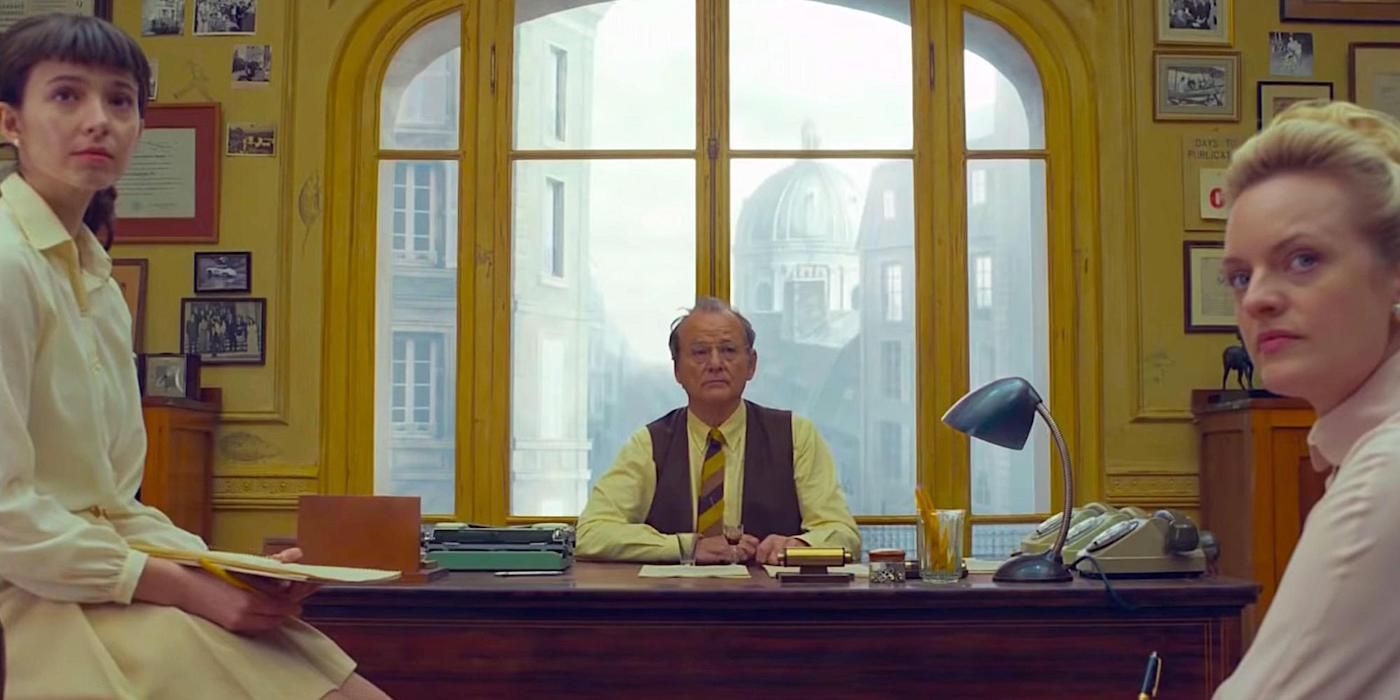 Howitzer is dead, but we knew that from the beginning. Anderson is a charming, flawed, and popular film geek director, but that's also something we knew from the beginning. You're only going to get something out of this if you are aware of what you take in with you. Me? I carried my love for his particular brand of insanity through the door with me and regret absolutely nothing. It's far from perfect, but The French Dispatch is still a charming cacophony of narrative dissonance and I adored it through and through.
The French Dispatch is currently in theatres.